We're doing something radical (again)...
Editor's Note: The Insight as Art project closed on November 1st 2020 after a hugely successful run. Continue reading to find out more about this innovative method of research reporting, or register for updates using the form on this page.
Last year, we created the Insight as Art project to demonstrate the combined power of agile tech and creative reporting. We invited brands to get involved, and even took home the Best Global Audience Engagement Campaign award at the inaugural GDX Awards. Now, due to overwhelming success, we've decided to re-open the project for a second year. So, what is it all about? Read on to find out more.
If theres one challenge that most insights professional are familiar with, it's engaging key decision makers and stakeholders with the results of a research project. Techniques for overcoming this hurdle range from crafting story driven reports to producing compilation videos and visually stimulating infographics. But despite these tools, the challenge still remains.
It's time to do something different.
We want to equip you with a consumer representation of your brand so unique that it can't be ignored. And what medium conveys the richly layered, complex and nuanced relationship consumers have with brands better than art. That's right, we want to turn consumer opinion of your brand into unique pieces of art that will wow decision makers and leave them with something greater than words - a feeling.
To demonstrate the combined power of agile tech and creative reporting, we're offering to create custom art pieces for any client-side researchers that fill out the form on this page. Here's how it works:
Fill out your details using the form on this page. You will need to provide your work email address so that we can verify your connection to the brand you're representing.
We'll conduct a three day, exploratory question board on our InsightHub platform to understand how your brand is perceived by consumers, in addition to what emotional responses and behavioural associations it elicits. (You can read more about our InsightHub platform here).
Our team will distil the themes and narratives of the question board into a bespoke artistic re

presentation of your brand. The art piece will be professionally reproduced on a run of 15 postcards, alongside a brief explanation of the feedback that influenced it.

All 15 postcards will be mailed to the address provided in your form submission. These are yours

to distribute to stakeholders and decision makers as you see fit. We'll also give you a quick call to ensure the postcards arrived safely.
We aim to ship all postcards within 10 working days of your form submission. In some situations, due to increased demand or shipping times, this may not always be possible. If we believe there will be any delay, we will endeavour to inform you as soon as possible.
Insight on London & New York as Art
So what can you expect if you take advantage of this offer? We've created two real-life examples to show you exactly what Insight as Art looks like in action. To create these pieces, we gathered in-depth qualitative feedback from residents of New York and London on their respective cities. Our team then worked to distil the complex myriad of topics, perceptions and themes those arose, before building these powerful, distinctive visual representations.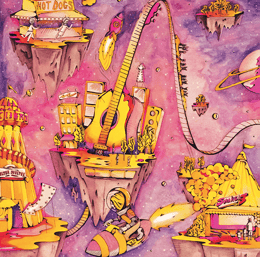 New York, as described by qualitative research
New York is Disneyland for adults. Bold, bright and crammed full of entertainment - the city is described by residents as being a world of its own, represented by a series of isolated islands.
Life is energetic, highlighted by the vibrant palette and galactic setting. The city can be performative, leading to a fun lifestyle that distracts from the challenges New Yorkers face. (Read More)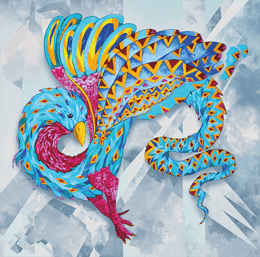 London, as described by qualitative research
There's no place like London. The overall design of this piece is inspired by the positive associations citizens have with the city's multi-culturalism.
The vibrant creature, captured mid-flight, is a metaphor for the adrenaline fuelled race that is life in the UK capital. But a dynamic lifestyle takes energy and financial resources to sustain - represented by implied motion. (Read More)
Ready to get involved? Simply fill out the form on this page to sign up and we'll take care of the rest from there. If you have any questions on the project, would like further information or are looking to make a press enquiry, please drop an email to chris.martin@flexmr.net.
Be Part of an Award Winning Campaign
Don't just take our word for it. At the inaugural Global Digital Excellence Awards, the campaign scooped a win in the Best Global Audience Engagement category. The judging panel, comprised of experts from Microsoft, AO, Manchester Metropolitan University, Arriva Group and more, praised the creativity & uplift of the project which connects with researchers and provides real, tangible value.
Find out what makes the Insight as Art project an award winning endeavour, and see your brand in a radical new light - get involved today.