We're doing something radical...
Editors Note: This project has now closed. Thank you to all the brands who expressed interest, took part and challenged our team to create over 30 unique works of art. Although the project is now closed, we may re-open applications in 2020. To register your interest and sign up for updates, please fill out the form on this page.
If theres one challenge that every insights professional is familiar with, it's engaging key decision makers and stakeholders with the results of a research project. Techniques for overcoming this hurdle range from crafting story driven reports to producing compilation videos and visually stimulating infographics. But despite these tools, the challenge still remains.
It's time to do something different.
We want to equip you with a consumer representation of your brand so unique that it can't be ignored. And what medium conveys the richly layered, complex and nuanced relationship consumers have with brands better than art. That's right, we want to turn consumer opinion of your brand into unique pieces of art that will wow decision makers and leave them with something greater than words - a feeling.
To demonstrate the power of art as a medium for communicating research results, we're offering to create custom art pieces for the first 200 client-side researchers that fill out the form on this page. Here's how it works:
Fill out your details using the form on this page. You'll need to provide your work email address so that we can verify your connection to the brand you're representing.
We'll conduct a three day, exploratory Question Board on our InsightHub platform to understand how your brand is perceived by consumers, in addition to what emotional responses and behavioural associations it elicits. (You can read more about our InsightHub platform here).
Our team will distil the themes and narratives of the Question Board into a bespoke artistic re

presentation of your brand. The art piece will be professionally reproduced on a run of 15 postcards, alongside a brief explanation of the feedback that influenced it.

All 15 postcards will be mailed to the address provided in the form on the right hand side of this page,

for you to distribute to stakeholders and decision makers as you see fit.
We estimate a two week turnaround from receiving your completed form to the postcards arriving at the address provided. In some situations, due to increased demand or shipping times, this may not always be the case. If we do not believe we will make the two week estimate, we will endeavour to inform you as soon as possible.
Insight as Art: The Postcards
So what can you expect if you take advantage of this offer? We've created six example postcards, based on consumer opinion of various industries - to show you just that. Here are our twofavourites.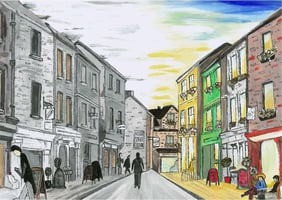 Retail Sector
In this postcard, a sparse, industrialist and Lowry inspired high street contrasts with the wonderfully colourful and detailed impressionist scene.
Together, these form a contradictory reconciliation that views the retail sector as "over-the-top" and experiential, as well as dull and depressing – differentiated primarily by customer service.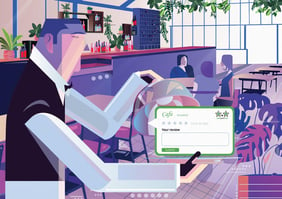 Food Service Sector
This digital illustration depicts the modern, clean and atmospheric dining environment that is primarily associated with the food service sector. Behaviour and choice are highly review driven, both by online sites and word of mouth.
Ultimately, consumers believe restaurants serve experiences; service and atmosphere are just as important as the food that they cook.
In addition to these, we have also produced postcards based on the FMCG, food service, hospitality and travel sectors. You can view all six designs in our dedicated gallery, or read details of the feedback that influenced each piece in this blog post.