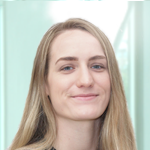 Editor's Note: IIeX NA 2020 has been moved online! GreenBook are reimagining all of their 2020 conferences as virtual events, and the new virtual IIeX NA event will take place 9th-11th September this year. However, the IIeX NA 'New Speakers Track' which Maisie will be presenting in has been postponed until 2021.
Those who have already bought a ticket for IIeX NA conference will automatically be registered for this virtual event. For more information please see the update on the IIeX NA website.
We're proud to announce that our Senior Research Associate, Maisie Furneaux, will be presenting at her first professional speaking engagement at GreenBook's IIeX North America conference! Exploring the topic of Design Thinking – A Unified Language for Researchers & Marketers in the 'New Speakers Track', Maisie will be delving deep into the strategic advantages and insights from design thinking that can be incorporated into market research and marketing strategies.
Creating a Unified Language
First Maisie will talk through what exactly design thinking is, which is quite simply to think like a designer. There are three pillars to design thinking: empathy, ideation, and experimentation. Each of these play an integral part in the Stanford School process: empathise, design, ideate, prototype, and test, and with this process Maisie will challenge the insight professionals in the audience to rethink their own research philosophies and processes with these principles to see how their mindset and work will change.
After this introduction, Maisie will focus on the three key takeaways of the talk, with the first being a focus on convincing ourselves how prototypes can be a boost rather than a bane to the research and marketing processes. There are many reasons why prototypes should be exercised, but not in the least because the iterative design process that they encourage will help us keep sight of the bigger picture.
Secondly, design thinking requires a strong position to be taken. Prototypes cannot be made without a clear plan to work from, and it's this commitment that will lead to the quicker completion of a research project through the iterative approach mentioned above. This commitment is something that researcher sometimes take more time than necessary to come around to, and the prototype element of the design thinking process will speed things up. And finally, Maisie will explore how design thinking embraces the past, present, and future, forecasting likely behaviour through research and gaining a fundamental understanding of consumer beliefs and attitudes.
Key Takeaways:
Disseminating the value of scrappy prototypes and the benefits they bring to research
Learning how to take a position on issues, whilst remaining truthful and accurate to the data
Discovering how to apply the design-led philosophy of combining the past, present and future to the formation of research projects
Maisie's talk will take place on Wednesday 9th September at 1:40pm – 2pm. For more information on IIeX North America, check out the website.
About IIeX North America
IIeX was designed to do three things: introduce researchers to the new ideas changing the world of insights, provide practical training and learning sessions, and connect attendees with other innovative insights professionals from some of the most effective brands and agencies in the world. The Insight Innovation Exchange 2020 is being held on the 14th-16th April at the AT&T Conference Center in Austin, Texas and is filled to the brim with new insight and technological innovations.
This is an unmissable event for insights professionals and we are proud to be attending. We're also especially looking forward to hearing from a wide-range of exciting speakers including Annie Pettit Consulting, KnowledgeHound, HappyMR, Google, Pepsi, Microsoft and many more across the jam-packed agenda that spans two days. We hope to see you there, and have the opportunity to talk all things market research with you!