Artwork Inspired by Insight Captures the Heart of London's Identity
FlexMR have transformed qualitative attitudes, opinions and beliefs about London from its residents into a compelling work of art that grapples with the city's complex identity.
For Immediate Release: 06/04/2020. London, UK.
This spring, FlexMR - the technology led insight agency, have released artwork inspired by the attitudes, beliefs and opinions of Londoners towards the city they call home. The data, gathered through a three-day qualitative research project, has been transformed into a creative, dynamic representation that serves as a powerful example for the agency's Insight as Art project. The artwork will be on display in the commuter hub of Euston later in the year.
The Insight as Art project is a first for the market research industry. Designed to demonstrate the power of creativity in business and decision maker engagement, the project pushes the boundaries of research reporting. Because in an era where data is abundant, research teams need to find more impactful ways than ever before to stand out and inform key commercial decisions.
FlexMR CEO, Paul Hudson, says of the project, "One of the greatest challenges the research industry grapples with is business engagement and the activation of insight. That is the process of turning research and data into tangible business decisions. The exciting aspect of this project is that it makes real progress in this area, and demonstrates that insight professionals can spark important conversations through the creative and novel presentation of data."
The London artwork was informed by real qualitative research. FlexMR asked London residents about their opinions on the city. This is what they told us:
There's no other place in the world quite like London. The design of the fantastical bird that forms the subject of the piece draws inspiration from the positive associations citizens have with the city's multi-culturalism.
A vibrant creature, captured mid-flight, this subject is a symbolic metaphor for the adrenaline fuelled, enthusiastic race that is life in the UK capital. But a dynamic lifestyle that chases opportunities takes energy and financial resources to sustain - represented by the motion implied just to keep afloat.
The background of the piece, created by blending a Renaissance sky with modern techniques, highlights the sense of pride associated with the city's past. But it is one that clashes with modern progress, causing very real tensions that can make life in London more challenging and even more expensive.
Above all, what this artwork captures is the delicate, dream like beauty of life for residents who are striving ardently to rise above the hidden perils and challenges the capital presents.
Chris Martin, Chief Marketing Officer at FlexMR, states, "Art and market research may not seem like the most obvious pairing on the surface. But as we've explored the idea of abstract representations of data, what we've learnt is that it actively engages audiences through interpretation.
It's this active, involved process that embeds complex insight and data into the long-term memory of audiences, much better than typical reporting methods. But, crucially, researchers with knowledge of the key takeaways are still required to guide accurate interpretations - that is never going to change."
FlexMR are inviting brands to get involved with the project. The agency's creative team are creating free, impactful and engaging representations of qualitative consumer opinion on participating brands. Those who sign up will receive a bespoke artwork that will spark important conversations around insight and leave decision-makers with an output more powerful than words - empathy. Full details on how to get involved can be found on the FlexMR website.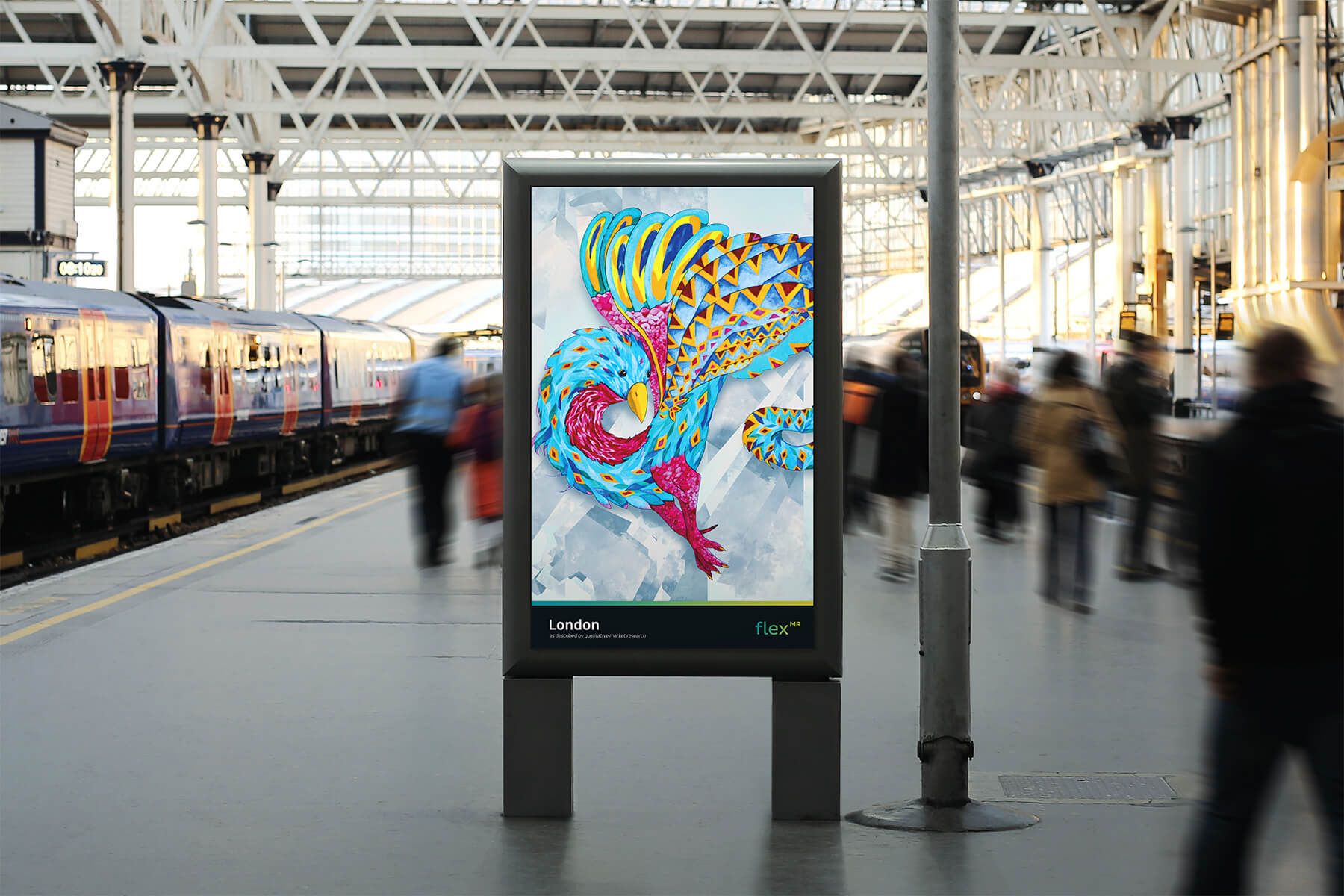 About the Creative Process
To create this abstract representation of London's identity, FlexMR fielded a three-day qualitative question board with residents of the city. Questions and moderation sought to elicit detail on individual beliefs, opinions and attitudes towards life in the city, and how London itself was perceived.
Responses were categorised into themes and trends that were then debated by a team of researchers, marketers and designers to find the best way of representing the subject matter.
About FlexMR
FlexMR is a technology led market research agency that helps brands inform every decision with relevant insight. We believe access to a powerful mix of qualitative & quantitative tools, all in one place, enables marketing teams to maximise return on research budgets and gain a competitive edge in the global marketplace. Our team is committed to providing the technology, expertise and vision to deliver insight capable of making a real, tangible difference.