Paul Hudson to Investigate the Role of Developers in MR at MRMW Europe
Editor's note: this event has now taken place. Catch up on all the latest from the conference with our Day 1 and Day 2 summaries, or read our deep dive into Paul Hudson's presentation here or scroll down to see the 2019 highlight reel.
MRMW is heading to Amsterdam on 17th-19th June 2019, and so are we! If you too are joining us to catch up on the latest trends and innovations within the insights industry, be sure to catch our CEO Paul Hudson's workshop: Developers vs. Researchers: Who Shapes Modern Research Experiences?
This interactive workshop aims to enable the discussion centred on who creates research experiences in the modern era where most research is conducted online. There is an argument to be made that they both have an equal amount of responsibility in creating engaging research experiences for our participants, but what do other insights professionals think? In this workshop, the room will be split into two halves: One side discussing the researchers' involvement, and the other discussing the developers' involvement. By splitting up the room, we will be able to see what key issues are brought to our attention through the healthy debates between (and also within) both sides.
Developers vs. Researchers: Who Shapes Modern Research Experiences?
With the rise of technological adoption within the market research industry, research activity is moving increasing into online spaces. This has paved the way for a variety of new research methods such as online community research forums, interactive diary studies, digital ethnographies and more. These all provide vast amounts in-depth data for more and, in some cases, better insights. However, this uptake of technological adoption, it begs the question, who is now responsible for shaping research experiences? Is it the researchers who carry out the research projects and communicate directly with respondents and clients? Or is it the developers who create and programme the technology that allows new innovative technology-based research methods to be devised?
The case for responsibility can be argued both ways: researchers are the ones who have refined and implemented effective research methodologies since the term 'market research' was first coined; however, since technology has been incorporated within the research industry, researchers are becoming more and more dependent on developers to create the platforms that these experiences are held on. developers are currently the ones to have the best understanding of technology-based research experiences since they are the ones who create them, and arguably will be the ones to streamline existing processes and incorporate new technologies into the processes in the future.
We are curious to see what our colleagues within the industry think on the topic, which is why the interactive approach to this workshop has been taken. This way, we are raising the topic for discussion and enabling insights from all backgrounds to inform the final decision. However, no matter what the final result of this debate may be, one thing is clear: communication between both sides needs to be slick in order to further innovate the research methodologies in the insights industry.
Key Takeaways:
Exploring developer's roles within the MR industry and their impact of incorporating new tech into processes and experiences
Critically evaluating MR's dependency on technology and developers
Reviewing how the role of the researcher has evolved due to the rise of technological adoption
Investigating how researchers and developers can work together in order to create the best research experiences possible
About MRMW EU: Powering the Future of Insight Automation
Market Research in the Mobile World (MRMW) is the largest and most prestigious global conference series focusing on mobile, innovation and high-tech marketing research. The theme for MRMW 2019 is "Powering the Future of Insight Automation".
With its highly focused, single stream agenda MRMW stands out from the crowd by providing a uniquely open and intimate atmosphere for industry experts to network, learn and discuss. A curated mix of clients, agencies and technology experts ensures you get direct access to the latest trends, innovations and solutions - without the usual spin!
Alongside FlexMR, delegates from Formula One, Zigzag Research, Insites Consulting, and many more businesses from a variety of industries will be gathering and networking at this year's conference, sharing innovative ideas and building new paths that will set us all up for the future of applied market research.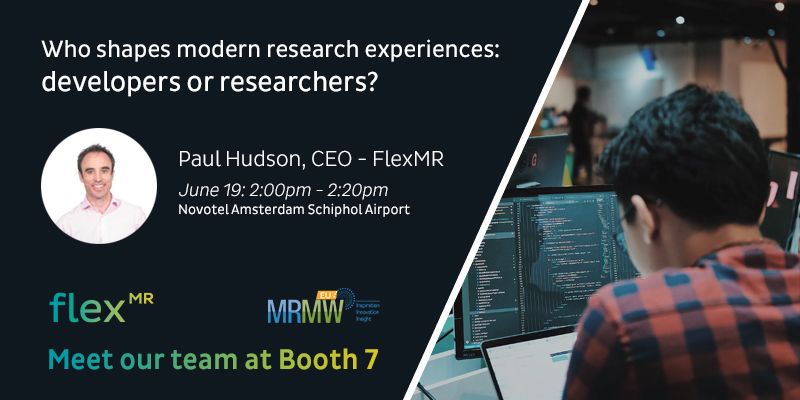 FlexMR customers and partners can receive a 15% discount on conference tickets by using the code FLEX15 at checkout on the Merlien website. To take advantage of this offer and book your tickets, click here.